Hard Time Doesnt Last Forever ;)
Saturday, 29 December 2012 | 11:05 pm |
0 comments
Hai & Assalamualaikum ;DD
Ok here i am again tonite . Ohh DearBlog , im sooo sorry . Everytime aku log in masuk jee blogspot.com ni mestii jee ada cerita sedih . Hmm blablablaaa but i dont wanna talk about it cause it makes no sense to me actually . Hahakssss whatevaaa -,-
K aku nak cerita pasai kemaren nihh . Heheeee sukee ok sukee ;PP Semangat nihh nak hapdett belogg . Rindu kayy rinduuuu . Aaaaaaa x) you hape tawuu Bwekksss >_< Such a gediksss girl . Suka la ? -_- Memang aku nihh jenihh sebelum cerita eksaited lebih . Menyampahhh ! Ahahaha awat tak puaih hati tang mana ? Habaq mai ! *muka ganster*
Okayy dah stop it -oo- Kemarenn kann pegi jogging dengan Hajar , Wath , Kielah dkadd taman rimba . Bangun bangun subuh tak tdoq dah . dah depa set nakpii pukui 8 . weyyy gylaaa aku ngantuk -,- selalu lepaih subuh tdoq balik . Dak , haha bukan malaih . tpiy semua org tadak k depa busy . Ayah p keja . Ibu p SP sebab nak hantaq paper yg ibu marks for spm tuu . Dik Dam pegi koop juai buku . Dik Ti & Dik Pia pegi umah tok . Andd aku home aloneeeeee :| So bwat apa bangun awai awai ~,~ Bowwwringggggg .
K back to the story , siap siap lahh cepat mandi semua bagai . dengan bangganyaa aku pakai baju merah ang anggg :D Ahahaha sooo funny --' K takpalah , call hajar ada mana . Dya kata haa nakpii dah aa nihh . Tpiy seriously sora bunyi dok ataih katil lagi aa nahh . Macam paa gii . Mloat aku =.= Andd then dya punn mai lah ambik aku . Pukui 8 sharp sampai sana . Wath ngan kielah depa saja aa . Gedik gedik deal pukui 8 ada kat taman rimba dahh . pukui 9 taknampak muka gi .Mintak kaki mungkin ? Pfftttt -______-
sementara tunggu depa tuu . bwat warm-up dulu lahh kan . satgyy cramp pulak . dok make up sakan ngat tuu , tuu yang mai lambat tuhh . Hahahaha jkjkjk :P K sampai sampai tuu ada geng hindu nihh dok main badminton dok exercise gak aa . Then hajar cakap ;
Ishh hindu nii dok exercise paa g taw ! Dah kuquih keqingg dahh . Ishhh !!
Haehh laaa yang hg kalut tuu awat tktaww . bekpilahh kat dya . Tpiy wehh seriously dya kuquih gedepang . Jelesss aku . Masalahnya dah laa laki tinggi melayup pulak tuu . Wuuuuu ~,~
Andd then ternampak laa sorang lagi laki nii kinda machoo laa kann . Aku tadak sense dah kat laki buat masa ni x) bak kata hajar ;
wehh hg tgk tuu hensemm gedepangg ! macho wehh . hensemnyaaa . Huuuiiiiii ! ;D
so mata dua dua org dok tgk dya aa . Tiba tibaa sekali dya tgk kami . Dan dann dua dua orang mata lari koutt lain aa nak cover . HAHA wehh hatnii lawakk . Betoii mcm dya dengaq apa yg km ckp & mcm dya taw kami dok tgk dya padahai km sambil jalan jaa n ckp tuu slow japunn takdelahh dkadd dya . Cuak kouttt XDXD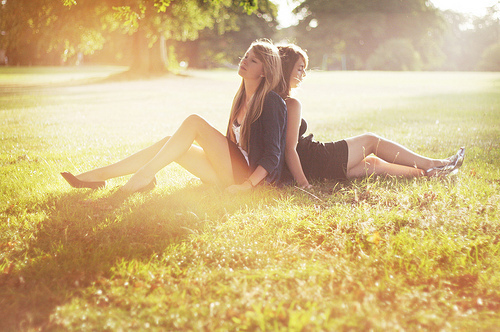 K then tunggu punya tunggu punyaa tunggu dua ketoi manusia nii tak smpai lagi . Alhamdulillah memang sabar itu sebahagian drpd iman punn . Tpiy agak agak aa :< Pahtuu p aerobic pulakk . wooo pecah peluhh kayyyy . Klaw aerobic nii semua pompuan . Tpiy ada sorang PAK CIK nii join skali . k gatai aehh pak cik nii . Time goyang tuhh dya semangat sekali . Amboii sakan aehh goyang . Mloat aku tgk . Muahahahahha XD Nyampahhssss -..- Pahtuu barulahh wath & kielah sampai . aerobic nak habess dahpunn . Dan depa baru nak start habess dah aerobic . Bwat malu kat orang weyyy :P
Pahtuu kami p sambung jogging pusing satu taman rimba tuu haaa . Time tuu aku ngan jat punya batery dah low dahh . Semput dahh pasai aerobic punya pasai tadi . Hat dua ketoi manusia tadi tuu rancak aa dok pelekehh kami . Amboi aku hawinn kout tingkap satgy koutt . haaa dah laa mai lambat . Hahahaha XD K pastuu p makan makan suma bagai then balik umah . smpai smpai umah tgh onl , kielah call soh mai taman jubli blkg umah aku pulak nii . Amboi semangat aihh =.= Memang aku takpi dahh dan jumpak katill habess cerita . Ngeeee :3
So aku hepi sangat . Rindu dkadd depa dah lepass dahh :) Yeayyyy ! K , ThankYou . Sekian .
# Jangan terlampau rapat . Pasti ada halangan, kena pandai atasi . Saling mempercayai, nadi kepada hati -HZ-
Lots Of Love,
Old things | New things